Hardware Cyber Security By AME
The goal is to describe the potential benefits of AME in aspects of hardware cyber security.
Nowadays protection against industrial espionage for electronic devices takes more and more relevance. 
Solutions have to be found in order to protect special designed hardware and chips against:
Hardware trojan identification
Hardware obfuscation
Netlist reverse engineering
Side-channel attacks
Fault attacks
And even more
Use of AME with full 3D-wiring will be required for implementation measures .
The Advantages of AME in Security Level of Electronic Hardware
AME shows a high potential to increase the security level of electronic hardware by:
Increasing in the individualization of electronic designs on board- or chip housing level
Realizing new shielding concepts of electronic circuits
Implementing specific designs which can detect hardware threads
Implementing individual marker functionalities for circuit protection
Using a new technology manufacturing to realize higher integration
Realization of a 3D routed package for Hardware Cyber Security Chip
Wire bonding process of an AME Chip package (at Microwave Factory HENSOLDT)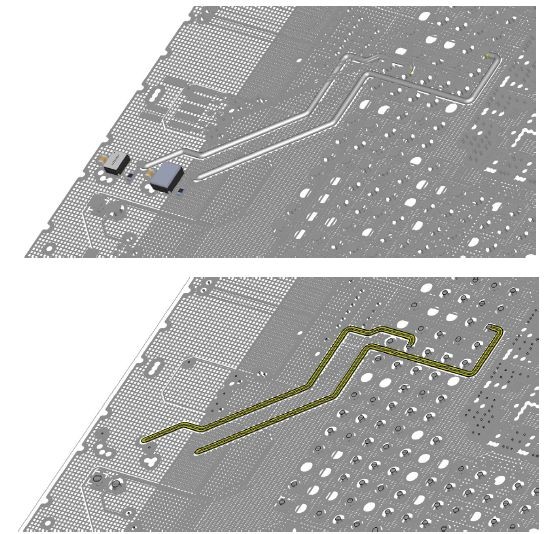 Full 3D wiring touches traditional PCB
Electromagnetic shielding of sensitive signals with hardware cyber security background is as well a feature AME and full 3D wiring can be used for even in combination with a traditional PCB footprint.