Home
Partners
J.A.M.E.S GmbH
J.A.M.E.S Partners With The Manufacturing Technology Centre (MTC) To Advance And Expand The Network Of AME
J.A.M.E.S Partners With The Manufacturing Technology Centre (MTC) To Advance And Expand The Network Of AME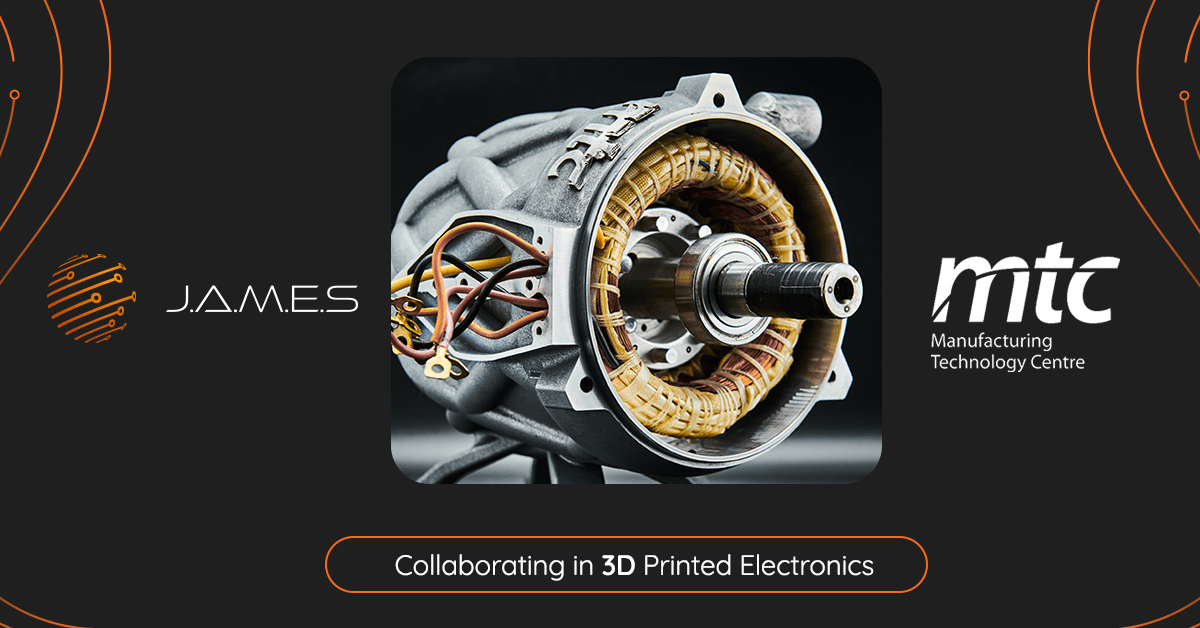 J.A.M.E.S (Jetted Additively Manufactured Electronics Sources), a leading company forefront of AME technology, is proud to announce a partnership with Manufacturing Technology Centre (MTC), an independent research and technology organization based in Coventry, United Kingdom, to advance and develop further in Additively Manufactured Electronics (AME).
Purpose of the Partnership
The primary goal of the partnership is to drive the development and application of AME technology, with J.A.M.E.S leveraging MTC's broad network of industry leaders and experts in the field of manufacturing. This will also give J.A.M.E.S community members unique opportunities to learn, collaborate, and expand their professional network. Moreover, MTC has expert knowledge in the field of electrification and manufacturing processes, which will be great access for J.A.M.E.S community members to gain insights into the latest trends and technologies in the field. 
MTC will also have access to the J.A.M.E.S' community of experts dedicated to advancing AME technology's development. This collaboration will provide MTC with valuable insights into the latest trends and developments in this rapidly evolving field, which can be useful to their research and technology projects. 
'Cultivating strong partnerships is critical for advancing AME technology and driving innovation within the industry. We are thrilled to have MTC as one of our partners. This partnership will enable us to expand our network and provide our community members with invaluable opportunities to learn, grow and collaborate. We are looking forward to driving the advancement of AME technology and look forward to the amazing innovations together with MTC,' said Andreas Müller, CEO of J.A.M.E.S. 
Moving forward, both companies plan to work together on various initiatives, including joint research projects and knowledge-sharing workshops, to continue driving the development of AME technology and expand the network.